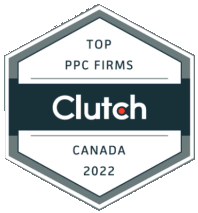 At Mediaforce, we work with your team to develop and execute data-driven digital marketing strategies using the latest tactics and technologies to help meet your business growth objectives; we let you do what you do best.
Since 1996, we've had the pleasure of partnering with amazing organizations from a wide array of industries. We're eager to be at the cutting edge of new marketing strategies and technologies that will help give our clients an unfair advantage. Our thought leadership team is constantly learning new tactics and methodologies from institutions such as MIT and Google.
With that said, we are genuinely proud to share with you another milestone we've unlocked this year. According to Clutch's Leaders Award research, we are one of Ottawa's top PPC management companies. For context, Clutch is a ratings and reviews platform based in Washington, DC, committed to helping small, mid-market, and enterprise businesses identify and connect with the service providers they need to achieve their goals.
Clutch highlights Canada's top B2B companies across different industries each year. The leading business service providers deliver high-quality customer service and have earned deep knowledge in their fields of expertise. We work hard to provide the absolute best products and working experience to our clients, and we're thrilled that this hard work has paid off.
"This is another amazing award from Clutch." – Joe Bongiorno, Founder & CEO, Mediaforce
We're excited to receive this outstanding award and look forward to helping even more companies heighten their businesses through exceptional services. We genuinely believe that our client's satisfaction is one of our biggest yardsticks for success. To those clients that trusted us with their projects, we appreciate it.
"I always had contact with the team. I left most of the management up to them which was great not to have to worry about it. A quick email every now and then kept me on the loop." – Shay Baptiste Escander, Author and Illustrator, Shay Escander
We can create a strategic plan to get you where you want your business to be. Let's book a short casual conversation to see if we're a good fit.