Top Google Ads Agency
The Google Ads $500 free ad credit is a promotional offer provided by Google to incentivize new advertisers to start using their advertising platform. Eligible businesses can receive a $500 credit that can be applied toward their Google Ads campaigns. This credit can help businesses kickstart their online advertising efforts, reach a larger audience, and potentially generate more leads or sales. However, it's essential to note that specific terms and conditions apply to this offer, including a minimum spend requirement and expiration date, so businesses should carefully review the details and guidelines provided by Google to make the most of this advertising credit.
Why You Need Mediaforce for Your
Google Ads Management
Dedicated Account Manager and Clear Reporting
We have had years of experience is managing client's Google ads account and understand that communications and reporting are just as important as performance. We take the time to update you on a regular basis and explain exactly what's happening with your account.
100% Support
The paid search specialists at Mediaforce Digital Marketing can assist you with all aspects of your Google Ads management (Google Adwords). Whether you're trying to fine-tune an existing Ads campaign or if you are starting from scratch.
Check out our latest Google ads success story
Let's Talk.
Ads. Clicks. Conversions.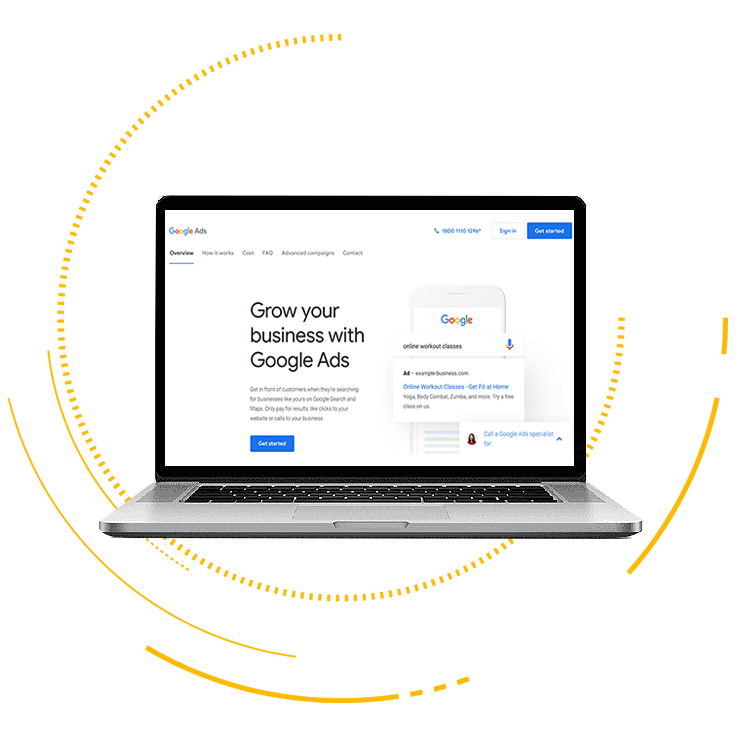 Get the most out of Google Ads
Google Ads is a paid ad platform that falls within the pay-per-click (PPC) marketing channel, in which you (the advertiser) pay per click or per impression (CPM) on an ad.
Google Ads is an effective method for sending qualified visitors, or individuals seeking comparable products and services, to your organization. You may increase the number of visitors to your website, phone calls, and in-store visits by using Google Ads.
Book a discovery meeting
Why Advertise on Google Ads?
Google is the most popular search engine, with over 5 billion daily searches. Not to mention that the Google Ads platform has been operational for nearly two decades, giving them a leg up on the competition in the paid advertising space.
Google is optimal for not just reaching your target audience and a wide range of demographics, but it can produce a high return on investment if managed properly.
Book a discovery meeting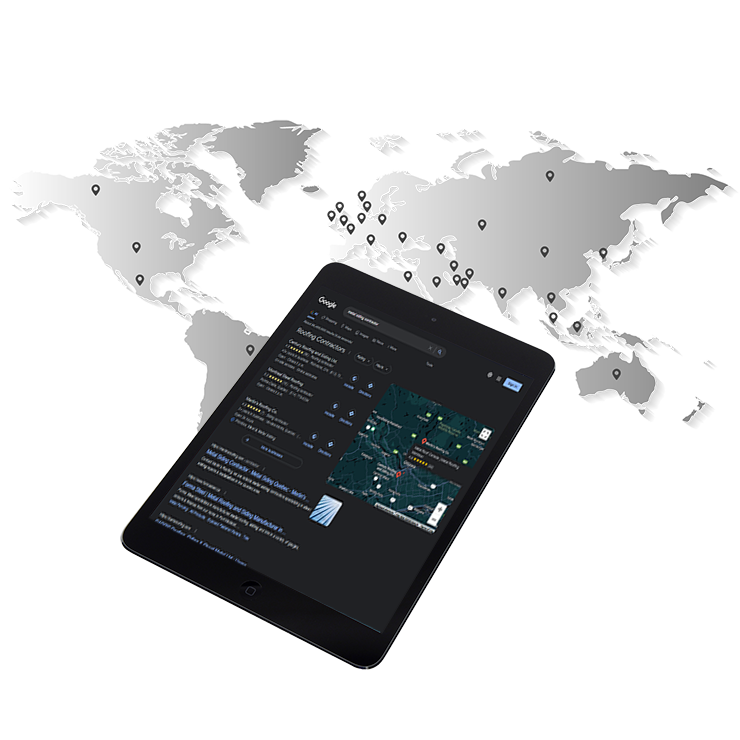 Why Choose Mediaforce To Manage your Google Ads Campaigns
Our Google Ad campaign management approach includes an initial setup and optimization phase, followed by continued reporting, assessment, and account management for optimal value and performance.
We follow a variety of best practices, whether you have an existing Google Ads account that needs fine-tuning or a completely new setup
Keyword Research
The Google Ads Search Network's lifeblood is keyword research. You must target and bid on specific keywords in your industry for your ads to appear. However, it might be difficult to locate the proper keywords that you can afford to bid on without blowing your budget.
Ad Group Setup and Write New Ads
Your Google Ads account and campaigns will be difficult to manage if you use the incorrect setup. Furthermore, generating high-quality ads on Google Ads can be difficult due to the limited character space.
Setup Landing Pages That Convert
Landing pages are an important component of Google Ads. Users will convert and complete their purchases on your website with the help of good landing pages. Bad ones will sabotage your sales and cost you thousands of dollars in clicks with no results.
Google Ads Bidding Optimization
Good bidding tactics can help you improve your ad rank while also lowering your costs to take advantage of cheaper conversions and clicks. However, for a new Google Ads customer, bidding can be challenging.
Create Custom Audiences
Google Ads has excellent custom audience options, from remarketing to lookalikes and custom intent. You can recover missed conversions, establish audiences based on your most loyal consumers, and find new customers before buying.
Google Ads Reporting and Metrics Analysis
Which Google Ads metrics are truly important and a waste of time and money? Putting too much emphasis on vanity metrics might lead to poor business decisions that have no bearing on your bottom line. Focusing on the correct measurements helps ensure your company's profitability for years to come.
Retargeting
Retargeting increases brand awareness by allowing you to approach consumers who have already shown interest in your items. This is cost-effective, it gives extra points of contact with your product and, more broadly, your brand, so improving the possibility of conversion.
Google Ads Account Maintenance
Thanks to new reporting software, additional metrics, columns, and modifications to the bidding mechanism, it's becoming increasingly harder to put your account on autopilot. Google Ads requires that you maintain your account regularly. Over time, lower costs and increase performance.
Canada Flowers was already using online paid search campaigns but they weren't delivering optimal results. Mediaforce was able to boost online conversions while reducing cost per acquisition by focussing on ad-copy optimization and a tighter alignment between the ad copy and the customer-journey on the site.
What Makes Mediaforce Digital Marketing Different
At Mediaforce we have been a focused Google Ads Management marketing agency concentrating on Google Ads management since 2005, and we've increased paid search conversions by over 685%. We put our expertise to work by using time-tested ad management strategies that boost conversions while minimizing CPC.
Mediaforce's Google Ads management services will increase your sales, leads, inquiries and bookings by attracting potential clients/customers to your site at the right moment they are looking for your products or services.
Hear what our clients have to say
Google Ads Frequently Asked Questions
What is a Google ads agency?
A Google ads agency is a professional service that specializes in creating, managing and optimizing ads on Google. These agencies have teams of experts who understand the ins and outs of advertising on Google and can help businesses maximize their ad spend to generate more leads or sales. By working with a Google ads agency like MEDIAFORCE , small businesses can save time, money, and resources while achieving better results than they would be able to achieve on their own.
Working with a Google ads agency as a partner can help small businesses save time, money and resources in their digital marketing and ppc efforts while achieving better results than they would on their own.
Google ads agencies like MEDIAFORCE offer a range of services such as campaign creation, keyword research, ad copywriting, targeting options selection, ongoing optimization strategies implementation among others. When working with an agency that has experience in advertising on google Ads campaigns are likely to be more effective because it is tuned towards generating meaningful conversions rather than just clicks. Additionally using an Agency ensures you get regular reports which helps show how much ROI (return-on-investment) was generated for each Ad spend used during the duration of the campaign which informs future decision making processes
Definition
Google Ads is an advertising platform provided by Google that allows businesses to create and display ads on search engine results pages and other websites. A Google Ads agency, on the other hand, is a professional service that specializes in managing ad campaigns for clients. Unlike DIY advertising, a Google Ads agency provides expertise in areas such as ad targeting, budget optimization, and measuring ROI to help businesses maximize their ad spend and achieve better results from their ads on Google.
Services offered
Our Google ads agency provides a wide range of services to help your small business succeed in the digital landscape. Our team of experts specializes in creating and managing effective campaigns that drive measurable results.
Our services include:
Keyword research and analysis to ensure your ads are targeting the right audience

Campaign creation and management, including budget allocation and ad placement

Ad copywriting and design that captures attention and drives clicks

Landing page optimization to increase conversions once users click on your ads

Conversion tracking and reporting so you can see exactly how much ROI you're getting from your ad spend
Choose our agency for personalized attention, data-driven strategies, and proven success in advertising on Google.
Benefits of using a Google ads agency like MEDIAFORCE
Access to experienced professionals is just one of the many benefits a Google ads agency can offer. By hiring an agency, you're not only getting access to someone who specializes in optimizing campaigns for cost-effectiveness but also dedicated support that can help you troubleshoot campaign performance issues to help get immediate results. With this kind of expertise on your side, not only will you get the most bang for your buck by staying on budget while still maximizing conversions, but you'll also free up time so you can focus on other aspects of your business knowing that your expert partners are handling your PPC management ad campaigns.
Access to experienced professionals

Dedicated support

Maximize conversions while staying within budget

Free up time for other important tasks
How to choose the right Google ads agency
When choosing a Google ads agency, evaluate their creative experience and expertise in the field. Look for agencies that specialize in PPC advertising and have a proven track record of successful campaigns.
Check the agency's client portfolio and read testimonials from previous clients to gauge their level of satisfaction. A reputable agency should be able to provide references upon request.
Communication and transparency are crucial when working with an ads agency. Choose an agency that provides regular updates on campaign performance, is responsive to your inquiries, and keeps you informed about any changes or adjustments made to your account.
When it comes to pricing and fees, compare rates among different agencies but keep in mind that lower costs don't necessarily equate to better results. Instead, focus on finding an agency that offers reasonable pricing for quality services tailored specifically for your small business needs.
Experience and expertise
Our Google Ads agency has been in the industry for over 2 decades, providing successful campaigns for small businesses. We have a team of certified and qualified experts who stay up-to-date with the latest trends and algorithms. Our expertise spans across various industries such as e-commerce, healthcare, finance, and more.
Our agency's success is not only based on our qualifications but also our ability to understand each client's unique needs and goals. We work closely with clients to create customized strategies that yield maximum ROI while maintaining transparency throughout the process. With our experience and expertise, we can help your business achieve its online advertising goals through targeted Google Ads campaigns.
Client portfolio and testimonials
Our success as a Google Ads agency is reflected in the results we achieve for our clients. Our portfolio boasts examples of successful campaigns where we have exceeded client expectations and driven measurable growth. We also pride ourselves on receiving testimonials from satisfied clients who have seen a significant increase in traffic, leads, and sales as a result of our services.
Our case studies demonstrate how we have helped businesses grow through targeted advertising strategies tailored to their specific needs. By leveraging data-driven insights and continuously optimizing campaigns, we deliver exceptional results that exceed industry benchmarks. At MEDIAFORCE, we are committed to helping small businesses succeed with Google Ads by providing transparent communication throughout the entire process.
Communication and transparency
We understand the importance of communication and transparency throughout our client's campaigns. Our team ensures frequent updates on campaign progress through various modes of communication, including email, phone calls and meetings as per client preferences. Accessibility to account managers when needed is a top priority for us.
Our 'white glove' customer service approach prioritizes client satisfaction above all else. We are committed to being responsive to any questions or concerns that may arise during campaigns, ensuring that clients feel fully supported at every step of their advertising journey with us as their Google Ads agency.
Pricing and fees
Our Google ads agency offers flexible pricing models to suit the needs of small businesses. Our 'all-inclusive' pricing model covers all aspects of campaign management, from strategy development to ad creation and optimization. Alternatively, our 'a la carte' pricing model allows for flexibility in choosing specific services required by a business.
We understand the importance of keeping costs low for small businesses, which is why we offer incentives such as a LOW setup fee or other promotions when working with our agency. We strive to be transparent about our fees and ensure that clients receive unparalleled value for their investment in our services.
Tips for working with a Google ads agency
When working with a Google ads agency like MEDIAFORCE , it's important to set clear goals and expectations from the beginning. This will help ensure that both parties are on the same page and working towards the same objectives. Additionally, providing necessary information such as target audience demographics, budget constraints and previous advertising efforts can help agencies create more effective campaigns tailored to your business needs. Communication is key in any business relationship, so having regular check-ins and reporting can keep everyone informed of progress or potential issues. Finally, be open to suggestions and feedback from your Google ads agency- they're experts in their field who want to see your small business succeed.
Set goals and expectations
To have a successful Google Ads campaign, it's essential to set clear goals and expectations. This begins with clarifying your target audience – who are you trying to reach? Next, define your budget for the advertising campaign – this will help determine what strategies are feasible. Finally, identify key performance indicators (KPIs) that will measure the success of your campaign. By setting specific goals and benchmarks at the outset, you'll be better equipped to track progress and make adjustments along the way.
Provide necessary information
Our Google Ads agency is dedicated to helping small businesses grow their online presence. We take pride in sharing insights about our products and services with clients, ensuring they have a clear understanding of how we can help them achieve their advertising goals. Our team also discusses any previous ad campaigns that we have run, highlighting successes and areas for improvement.
As part of our commitment to transparency, we provide access to our clients' Google Ads account so they can see the progress being made on their campaigns. This allows us to work collaboratively with our clients and make adjustments as needed based on real-time data.
Have regular check-ins and reporting
Schedule weekly or bi-weekly meetings with your chosen Google Ads agency to ensure you are on track to meet your goals. During these meetings, review progress on KPIs and evaluate results against the benchmarks that were set during the goal-setting phase. These check-ins will allow for transparency and collaboration between you and the agency, ensuring that adjustments can be made if necessary for optimal campaign performance.
Be open to suggestions and feedback
Actively listen to the recommendations of your Google Ads agency, as they are based on their expertise and experience. Don't be afraid to try new strategies if they are backed by data, even if it means stepping out of your comfort zone. Regularly gathering feedback from customers, employees or other stakeholders is crucial in ensuring that your campaigns continue to meet their needs and expectations. By staying open to suggestions and feedback, you can constantly improve your ads' performance and reach your target audience effectively.
With Google Ads, you can start with any budget. There is no obligation for a certain amount of money to be spent. Keep in mind, the budget will dictate how fast we gather data and get desired results, we'll provide recommendations to reach your goals.
Google advertising is suitable for businesses of all sizes but particularly effective for SMB's. Google provides numerous advantages for addressing targeted consumers. Our Google AdWords Services offered in North America, western Europe and the Middle East,  provides solutions to reach out to specific audiences at the right time.
Google Advertising is a pay-per-click (PPC) network that you pay for text placement or retail ads on SERPs for specific keywords. PPC is only effective if people click on your advertisements, which are displayed to at the top and bottom of any Google search result that potentially generates traffic. In North America, the Google ad management solution inserts advertising on top of Google ads that can be clicked to your website.
To combat click fraud, Google employs a variety of strategies. There are automated filters, manual reviews, extensive research, and a staff of scientists and engineers. Some valid connections may be misinterpreted as fraud, and Google takes steps to avoid and detect this.