It's no secret that Instagram has become the ultimate tool to share photos and has become the go-to for many to record their lives' most important (and even not-so-important) moments.
Instagram is also a powerhouse for social media marketing and shouldn't be underestimated as just a photo-sharing application.
So here's our comprehensive breakdown of how you, as a business owner or marketer, can take full advantage of Instagram as a marketing tool.
The Pros of a Business Profile and Good Graphics
Instagram is a very visually based platform, so the pictures your business posts need to be visually appealing and engaging.
To help streamline the process and make your posts more unique, you can use the free graphics tool Canva to make posts. It even has Instagram post and story sizing templates that you can just fill out with whatever you want and not have to worry about whether it will all fit.
Switching to a business account is also a game-changer for your business because when you switch from using the default personal page, you have access to analytics and your page visitors have a greater ability to contact you in addition to direct messaging.
Since Instagram is now owned by Facebook, you have the option of running ads on Instagram using your Facebook Ads Manager.
When you use an Instagram business profile, though, you can also run advertisements on Instagram without having to go through Facebook's ad tools from the back end.
Sponsored Posts
Using Sponsored Posts that you can directly create from Instagram using your business profile, you get to target your ideal audience and measure your campaign's success.
One of our clients, The Canadian Produce Marketing Association (CPMA), wanted to build brand awareness and influence people to change their dietary habits. To reach their desired audience, we studied Canadian household structures to understand how different individuals in households play roles in influencing meal sizes and what challenges they might be facing.
Using this research, we were able to build specified customer segments of young professionals between 24-35, as well as mothers with children between the ages of 5-14.
This hyper-specific targeting allowed us to target those with whom CPMA would get the greatest bang for their buck because mothers were the key influencers in household diets while young professionals tended to decide that on their own.
Using this tactic of creating customer segments to target with our campaign, we were able to attract 1.5 million people and increase CPMA's Facebook fan following by 20,000.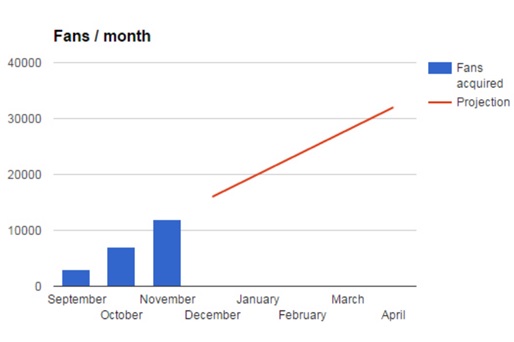 To read more about our tactics and results with CPMA's campaign, you can read our detailed case study here.
These principles of creating customer segments can easily be applied to Instagram Sponsored posts, either through Instagram directly or through Facebook Ads from the back end.
Knowledge really is power in advertising, so research, and your business will have results.
Influencer marketing
There's no doubt that influencers are on the rise, especially during the COVID-19 pandemic when there isn't much to do and plenty of opportunities for people to create high-quality content and garner massive followings.
Not only is this good for the influencers themselves, but this is also key for businesses. Each influencer is like a business, and so they have a target audience profile of their own.
The key to getting results and conversions with influencer marketing falls back to being very familiar with your own business's target customer and finding the right influencer to market it.
It's better to have a relevant influencer than a very large, irrelevant one.
Read that again.

For example, reaching out to PewDiePie for a shout-out on a product like women's vegan leggings (for example) will not only be a stretch because his target audience is mostly male video gamers, but it will also be very expensive because he's one of the largest influencers out there.
You may as well hire a shark to sell goldfish food.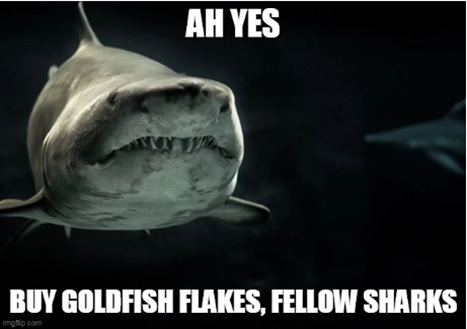 It would be more targeted (and cost-effective) to reach out to micro-influencers such as Sarah Zidekova: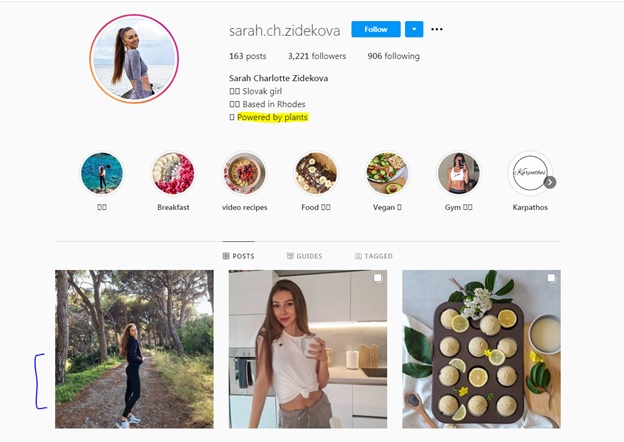 Her bio already indicates that she's vegan-friendly, and most of her pictures already include her wearing leggings, so it would be very easy for her to market vegan leggings geared towards women.
You can reach out to different influencers in your niche and decide on a few for your specific price point and marketing budget. You can even create a range of ads through different influencers and see which brings the best results using custom URL's and Facebook Pixel.
This range could include some micro-influencers and perhaps 1-2 rising medium-sized influencers such as Noel Arevalo:
Therefore, it would make more sense to reach out to a relevant, even relatively smaller influencer in order to reach your target audience depending on your business, niche, and product/service.
Many business owners are stumped regarding how to reach out to an influencer and what to say.
These are superficial details, and it's important to note that an influencer is also a business owner.
If they have a proven track record of promoting products and/or services that they're in line with, they have displayed to you as a business that they're motivated to do work with you to promote your products/services.
So don't over-think reaching out to them. While it may not be traditional, many businesses even coordinate with influencers via Instagram Direct Messaging. Many also prefer the email option because they can attach their proposals easily.
To contact an influencer via email, there will usually be a contact button on their profile which links to their email address specifically for promotions.
Your message can be as simple as addressing them directly by name, introducing yourself, expressing why you like the person's content, what you like about it, and how it aligns with your business and product/service.
Then in the same message, ask them if they would be open to promoting your product/service.
If they respond in the affirmative, you'll likely negotiate a package to compensate them for the promotion, or they will directly tell you how much they charge at a fixed rate for paid promotions, and you can go from there.
Try to sound as professional as possible in your initial message, depending on your brand and niche, link to your website, show social proof, and be clear in your communication about what you're seeking.
Influencers (and anyone, really) will be far less likely to respond if your email sounds generic, spammy, and just not like it's from a legitimate business entity.
Even if you're operating your business out of your parents' basement, which is the case for many young eCommerce business owners marketing their products/services and saving their revenues, just be sure to link your website and social proofs.
You don't need a brick and mortar building in order to be an official business in the age of online businesses.
So when you reach out to an influencer, know your worth and convey it.
Hashtag Strategy
Don't underestimate the power of hashtags because they can increase your organic reach exponentially when used strategically.
You can even create campaigns specifically geared towards your audience that can serve to unite your various customer segments.
For example, we created the hashtag #halfyourplate to help our client, CPMA, encourage people to incorporate more food and vegetables into their diets.
To make the most of organic (read: free; natural) traffic on Instagram, it's vital that you not only hashtag when you feel like it but have a tangible hashtag strategy.
Each niche has different hashtags (or keywords) associated with it. Some of these hashtags are absolutely huge (going into over a million posts), and some are smaller and therefore easier to appear higher in rank for.
Hashtags are important because, much like with SEO, organic visitors can turn into leads, fans, and customers.
So, similarly to SEO, you want to examine the volume of posts in each hashtag and then create a strategy depending on your page's current size.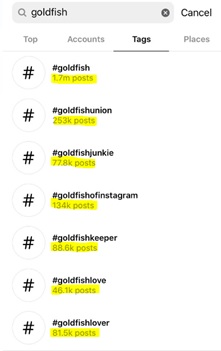 If your page is just starting out, you should include a large portion of hashtags with less competition that are relatively easier to rank for. For example, #goldfishlove will be easier to rank in the top posts for than will #goldfish.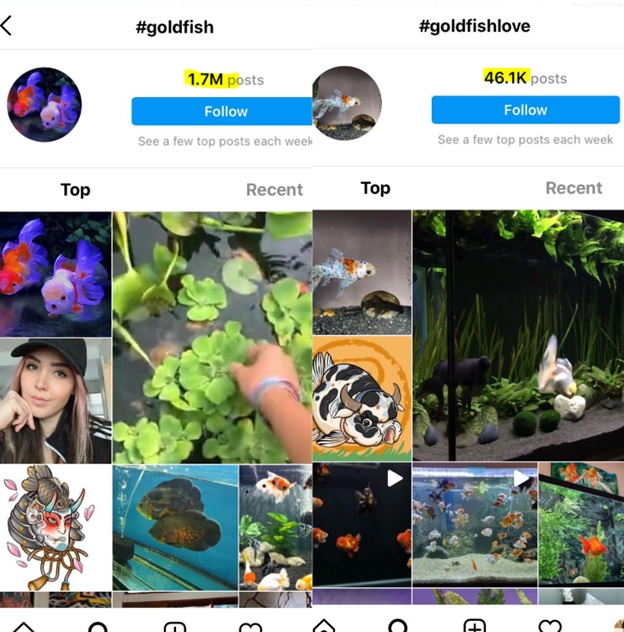 If you're easily ranking in the smaller hashtags and starting to see a plateau in their effects, it might be time to switch up your strategy to include more competitive hashtags and less shorter ones.
You can place these hashtags within your post and also in a comment underneath your post. Using both ways, Instagram will understand that the hashtag/s you use are part of your post.
Types of hashtags
Now that you understand how to decide which hashtags to include based on numbers, it's important to note the categories your hashtags can fall under.
There are three essential categories or types of hashtags:
Community hashtags: are for everyone and anyone to use on Instagram. The previous goldfish-related examples shown in this blog are all community hashtags, and these are great because they're search terms and thus draw a lot of traffic.
Company hashtags: are hashtags specific to one company or organization, and if others used them, their posts would not fit into the content. This can be your business's name, one of the products, a slogan, etc.
Campaign hashtags: come under the larger umbrella of company hashtags but are specific to a campaign. For example, the hashtag we used for CPMA's campaign #halfyourplate is a campaign hashtag.
In conclusion
Instagram is a highly effective and profitable marketing tool that many businesses understand is of vital importance.
Using the power of Instagram sponsored ads, knowing your exact target customer segments, relevant influencer marketing, and the right hashtag strategy for your business needs, you can make massive gains using this tool and meet all your business goals.
Are you interested in Instagram marketing but want to consult with a professional who has years of experience?
At MediaForce, we can help by providing top-notch social media marketing services among our other highly profitable digital marketing services, including SEO and PPC. Our offices are based in Toronto, Ottawa, Vancouver, and New York. Get in touch with us now for a free discovery consultation.