Table of Contents
Since remote working became the norm, businesses have been adjusting their services to today's competitive internet environment. Consumer needs quickly alter digital marketing trends, and businesses must adapt to remain competitive.
This post will analyze the top digital marketing trends for 2022.
Authenticity Creates Connection
Forging long-term interpersonal connections requires authenticity. Your clients seek engagement after the events of 2021. The inability to spend time with friends, family, and coworkers in person for over a year has prompted many to resort to technology.
According to a 2021 Global Marketing Trends research, over 70% of respondents valued digital advancements that helped them strengthen interactions with others. Your website will become future-proof and customer-friendly when you concentrate on presenting a genuine brand message.
Personalize Your Website
Website personalization is one of the most important digital marketing trends of 2022. Website personalization increases brand engagement, conversions, repeat customers, and emotional ties between consumers and brands. Personalization, like authenticity, is a terrific approach to connect with your consumers while enhancing your website.
Optimize For Search Intent
Optimizing your website for search intent can enhance brand exposure, customer acquisition, and revenues. Customers typically reach your website when browsing for a certain product or service. By optimizing for search intent, you may deliver relevant answers to your consumers with material tailored to certain queries.
Learn about search intent and optimize your content for particular searches to increase brand exposure, conversions, long-term customer retention, and relevance.
Tap into Chatbot Technology
Chatbots are still vital in effective digital marketing tactics. Eighty-two percent of clients demand rapid answers, which chatbots can give.
Chatbots are AI-based technologies that allow you to communicate with your consumers through instant chat. They are a new marketing tool that helps you engage with your consumers better than standard contact forms. These systems give 24-hour service, rapid response to inquiries, and the opportunity to communicate with clients outside of office hours or peak periods.
Try Push Notifications
Push notifications are the best way to encourage clients to buy. In 2019, at least 85% of online retailers employed push notifications. They help re-engage visitors and enhance conversions. Push notifications are now more tailored and smart. They're a terrific method to communicate in real-time.
Content Marketing Dominates SEO
Your website will be discovered by those who need it most if you have a strong SEO strategy. With effective content marketing, you can attract and keep new consumers for a long time.
The importance of great content and frequent blog entries increases year after year. That is, content is more important than ever for SEO. As a result, SEO content creation becomes a digital marketing essential.
Smart businesses will keep working on their content marketing strategies throughout the year.
Ultra-Fast Load Times Are Essential
Fast page load times have always been important in UX and SEO. Speedy pages are a priority for organizations in 2022 due to Google's Core Web Vitals ranking criteria. Faster loading times improve rankings and enhance conversions. If your site doesn't load fast, visitors will leave in a few seconds. That's how your website's performance affects your earnings.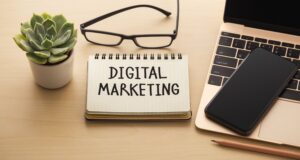 UX Design Trends
In 2022, UX is a hot topic. With more individuals working and purchasing from home than ever before, user experience impacts lead and sales. With Google's recent upgrade, UX is now a ranking consideration.
Here are some UX design recommended practices to adopt in 2022:
Simplified forms
User research
Advanced micro-interactions
Designing for usability
Live collaboration
Fast page loads, a fluid mobile design, and a compelling customer experience on every page – every element – will always be vital.
Here are our top digital marketing trends for 2022.
Simply said, growth requires change. Your company can only succeed by adapting to the new technologies and interactions your consumers anticipate with the ever-changing digital world.
We hope our marketing tips have helped you get started.