PPC Services Ottawa | PPC Agency Ottawa
Pay-Per-Click Ads Have a Lot of Advantages
Any business, especially during a coronavirus pandemic, is searching for low-cost, high-impact advertising opportunities. Customers are spending more time online than ever before, and businesses are leveraging PPC.
Many use pay-per-click (PPC) advertisements to get their brand in front of millions of internet users.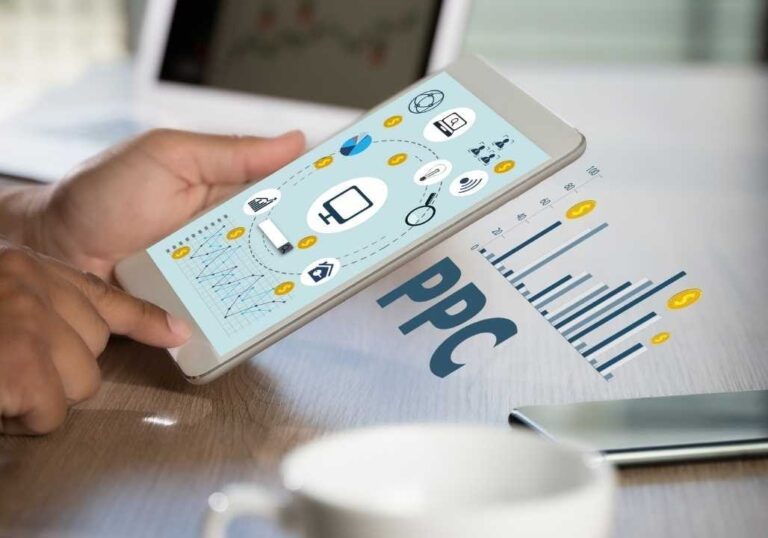 What is PPC advertising?
Pay-Per-Click (PPC) advertising is a form of marketing where you pay a small fee each time someone clicks on one of your ads. Instead of paying for expected impressions, you pay for the traffic these advertisements generate, making them an ideal option for businesses looking for total flexibility over their lead gen and budget. Google Ads, Microsoft Ads, and Facebook Ads are the most common PPC advertising platforms, but when it comes to the number of searches and the range of options, Google is by far the most useful for any PPC campaign.
Google ads is divided into three major groups, each with its own set of PPC rates and efficiency:
Video

– These are video commercials that play before, after, or after the videos on YouTube.

Display Network

– Image-based ads appear on websites your target audience has visited, typically as a banner, sidebar, or footer image.

Search Network

– In Google search results, text-based ads such as sponsored links, shopping page advertising, and shopping banner results.
The most effective PPC marketing campaigns rely on leading consumers to make a valuable decision, which can be as straightforward as purchasing a product. It may, however, be as diverse as form submission, quote search, or PDF download.
The top advantages in PPC ads
We've gathered a list of the top ten reasons why good PPC advertising would help your business succeed and thrive in 2023.
#1 PPC ads reach audiences cost-effectively
PPC advertising campaigns allow you complete control of your budget, targeting, and ad placements. With ongoing PPC campaign optimization, you'll quickly find the sweet spot between budget and performance.
#2 PPC ads provide instant traffic
Though organic marketing efforts are focused on bringing content to the top of Google's search results, PPC advertising slots are already open – why not take advantage of them and start generating business? It will take months to climb the organic search rankings for keywords. Though organic growth is necessary for building a long-term brand, there are times when more immediate results are needed. This is where PPC can assist. We will develop and implement a strategy for your business that will automatically begin driving targeted traffic to it.
#3 PPC ads drive warm leads
PPC ads enable you to reach the right customers at the right time because they are consciously searching for what you have to give. You will pay per click but will show the app to users interested in what you have to sell.
#4 PPC ads lead to positive ROI 
Anything that can be calculated can be altered and monetized. Unlike many other forms of advertising, PPC ads are easy to monitor, ensuring you can tweak the ads until they produce a positive ROI. We test different promotional and marketing strategies before determining which ones are most effective for your business. 
#5 PPC user data helps your SEO strategy
Before committing to long-term SEO tactics, test the keyword strategy in PPC. Whereas organic keywords are primarily blurred due to privacy issues, there is no such restriction for paid search, so you can get a complete picture of which keywords translate and at what percentage and cost. This means the PPC keyword data can be directly fed into organic search marketing (SEO) and used in existing metadata, headline, and keyword optimization. PPC campaigns allow you to improve all of your website content without waiting for it to rate organically.
#6 PPC ads don't depend on algorithm changes
Unlike content marketing and SEO, which are subject to improvements in search engine algorithms, PPC advertising has continuity. Since PPC algorithms rarely advance significantly, you can easily forecast how your current and future campaigns will do based on previous metrics.
#7 PPC ads offer multi-layered targeting options
PPC content provides access to analytics such as customer ages, emails, and tastes, allowing you to capitalize on diverse client profiles locally and globally. Even more, as you play with PPC campaigns, you'll be able to see what kinds of users react to your campaigns and what pages those users visit, helping you to hyper-target different demographics on platforms that they convert on best.
#8 PPC user data benefits your social media strategy
A combination search and social PPC strategies help to significantly convert more customers than independent PPC campaigns. This is so you can obtain more cross-channel market information that can strategically combine to improve your campaigns even more over time. For example, when running ads on Google, you can use "Audience Observations" to alert your social targeting.
Google's "Audience Observation" method allows you to see the audience groups outperform others, and you can use the data in your social media targeting and ad copy to reach still more people.
#9 PPC ads allow for smart retargeting
When you combine PPC advertising with analytics, you will see how a visitor interacts with your campaign and retarget those that did not convert. Assume you're running a paid search campaign for a new coffee brand. A consumer clicks on your advertisement but does not purchase the item. We will then retarget the user with display ads across the network to keep your brand in the forefront of their minds. Retargeting is effective because you know the buyer is already interested in your product/service but needs more time to decide. 
#10 PPC ads are easy to produce
The great thing about pay-per-click ads is that it does not require advanced architecture or intensive production.
Ten PPC statistics
Consider the following statistics:
Google handles more than 40,000 requests per second.

In 2017, 7 million advertisers spent a total of $10 billion on pay-per-click ads.

The Google Display Network contains over 2 million domains.

Sixty-three percent of people state they'd gladly click on Google ads.

75% of people who click on ads said it lets them find the information they're looking for.

According to Google, PPC will increase brand awareness by up to 80%.

Ads pay for 25% of all search result clicks for local searches.

Local retailers that use PPC to meet their target audience geographically increase in-store visits by 107%.

Sixty-nine percent of mobile searches for a local companies result in a phone call.

Eighty-seven percent of all businesses use social advertising, with 88 percent using Facebook, 15 percent using LinkedIn, and 15 percent using Twitter.
Why hire PPC management services?
PPC ads are a constantly expanding and evolving market.
What worked six months ago may no longer work, which is why we at Mediaforce we stay up to date on new features, tactics and strategies for reaching out to your target customers online. Hiring a specialist PPC management company, in our opinion, is faster and less expensive than hiring, training, and supervising an in-house team.
How can we help?
If you have any questions or would like a free, no-obligation quote for a personalized ppc strategy, please email or call us at 613-729-0500!
LET'S BOOK A SHORT CASUAL CONVERSATION TO SEE IF WE'RE A GOOD FIT.
We can create a strategic plan to get you where you want to be.
We take privacy seriously
At Mediaforce, we respect your privacy and value our relationship with you. Your personal information will be protected, will never be sold. Our goal is to enhance your product and service experience with us.