There is a brand-new tool that is exploding into the foray of digital communications. This technology per se is not new; rather, it has been around for quite a long time, but the way it is used and the advancements that have been made are just the tip of the iceberg. A perfect example of this is the use of the "Chatbot" and it is the focal point of this blog.
WHAT IS A CHATBOT?
Put simply, a chatbot is an instant messaging platform that delivers responses to your queries, without the need of any type of human intervention or support. They exist on many business websites, especially in those where an E-Commerce store is present. Most of the time, chatbots appear on the lower right-hand side of the website, and they usually appear when you first visit it. They are often in a minimized state and can be expanded upon by clicking on it.
Most of the time, there will be a human picture of the Chatbot agent, followed by their name. The conversation will normally start with a welcome message, prompting you to ask a question or concern. Once you have submitted this, the dialogue then continues until you are satisfied that your question(s) or concern(s) have been answered and resolved. But there are also those Chatbots which are automatically populated with "pre-canned" scripts, that allow you to select the one that most closely matches your question or concern. An example of this is illustrated below:
Although most of the Chatbots that are available today involve interacting with text-based messages (such as the ones depicted in the last two illustrations), they can also be voice driven as well. In this case, is with the microphone that is available on your laptop or Smartphone to ask your question(s) or share your concern(s). The best part is, you even get a voice driven response back, which makes for a better, more enjoyable experience for the user.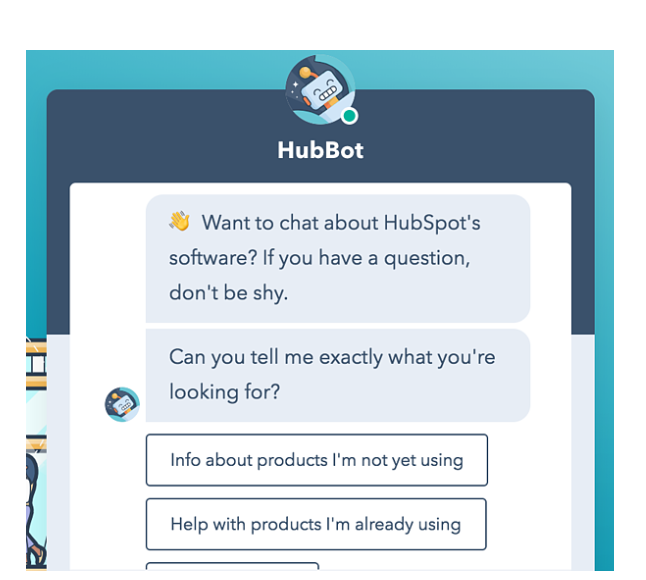 Here an Application Protocol Interface (API) has been created so that the customer can interact with their voice with the Chatbot. Also, a real time transcript of the conversation is created as well.
The Two Major Types of Chatbots
With the technology that is available today, there are two major types of Chatbots that are in existence, and that are widely deployed across businesses and organizations of all types and sizes. They are as follows:
1) The Task Oriented Chatbot:
This kind of mechanism is also known as a "Declarative Chatbot". In this specific kind of application, these Chatbots serve only one particular function and are primarily single purpose in nature as well.
For example, with specific programming rules that are embedded into them, they often respond back with pre-created answers to any question(s) or concern(s) that the customer has. They are very often automated and are designed to be very specific in their answers to you. This kind of Chatbot is used extensively for those types of organizations that serve the service and support related industries, in which many questions can be asked by the live individual, and in turn, be answered by the Chatbot. Typically, they address only the most common question(s) or concern(s) that are asked, and do not have many variables that are associated with them. At the current time, this is deemed to be the most widely used type of Chatbot used in North America.
2) The Data Driven/Predictive Chatbot:
This type of AI built tool is also known as the "Conversational Chatbot". A good example of these are the voice driven ones, as exemplified by Siri and Cortana designed for the iOS and Android platforms, respectively. Of course, these are much more sophisticated and personalized than their counterpart just described. These kinds of Chatbots make use of Artificial Intelligence (AI) Platforms (as pointed out in the definition earlier in this blog), as well as Natural Language Understanding (NLU) protocols in order to provide a robust and dynamic experience for the customer. They also make use of predictive intelligence and analytical technologies so that they can build a profile of the person using the device, creating a more fluid and personalized experience. The premise of this is that these types of Chatbots can learn from past behavior in order to predict the wants, desires, questions, concerns, etc. of the customer, so that tailored responses and answers can be given in real time in an attempt to meet their needs instantaneously. Also, these Chatbots can also initiate conversations on their own, depending upon the variables that trigger this. For example, the customer may be driving on an unfamiliar highway, and based on what is learned in the profile, the Chatbot can then make specific recommendations, such as what restaurants to eat at, places to visit, and so on. They even integrate with the other forms of Chatbots that the customer may have interacted with in the past, in order to provide this kind of "holistic" environment.
The Importance of Chatbots
On a macro level, Chatbots are becoming just as addictive and needed as the Smartphone has become. In fact according to a recent study by Garner, more people have been spending more time having conversations with Chatbots than their own spouses.
Consider some of these other statistics:
53% of those businesses and corporations in the service industry are expected to make full use of Chatbots within an 18-month timespan, which represents a 136% Year Over Year (YOY) growth rate;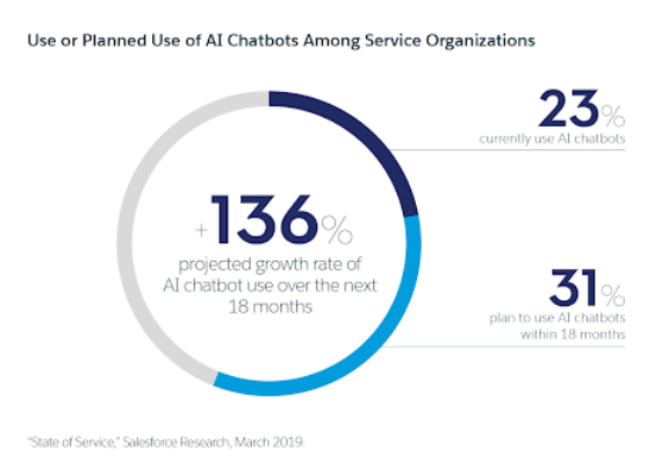 The use of Chatbots is also expected to explode in other areas of the service industry as well, most notably the following:
The Travel and Hospitality Sector will see a huge spike of 241% in the next 18 months;
The Consumer Goods Sector will see a huge growth rate of 187%;
The Healthcare and Life Sciences will witness a drastic spike of at least 167%.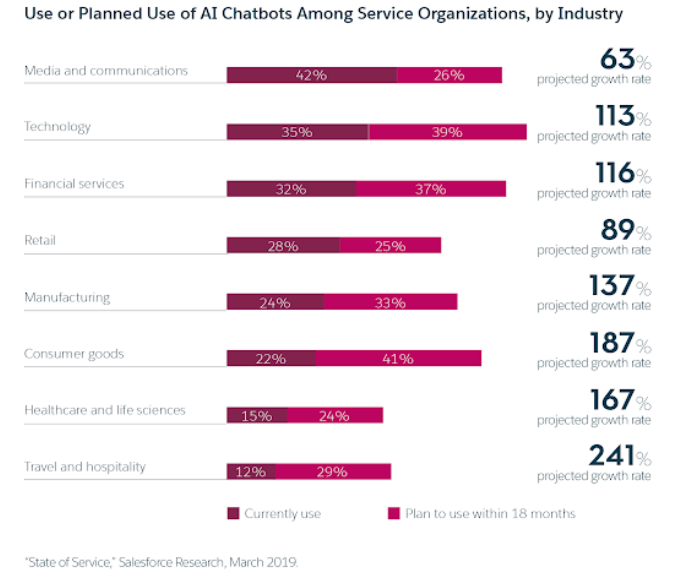 Overall, organizations that make use of Artificial Intelligence Chatbots are able to resolve complex support cases 64% faster than those that do not make use of a Chatbot;
Service-based organizations that make use of Chatbots have also seen a 64% simultaneous reduction of their phone and email backlog volumes;
Overall, 77% of customers claim that Chatbots are transforming their overall shopping in a much more positive way;
58% of those professionals involved in Marketing claim that they will use Chatbots in order to help enrich the Social Media experience of their customers.
Conclusions – The Benefits of Using a AI Chatbot
As one can see from the above-mentioned statistics, using AI based Chatbots can be very beneficial to businesses and organizations; especially in the following ways:
A sharp reduction in wait times:
No longer does a person have to wait for hours on end on the phone, or for getting a response to an Email. The Chatbot can literally provide an answer in just a matter of a few seconds.
Providing a quicker resolution to support cases:
This is most applicable to call centers, that focus on providing support to the IT Industry. For example, given the culture of the American society where everybody wants everything right now and right here, Chatbots can fulfill in that exact need, especially when it comes to resolving troubleshooting issues.
A quick avenue to other resources:
If a Chatbot cannot answer a question(s) or concern(s), or troubleshoot a specific case, they can still keep the customer engaged while the right resource is located to solve these issues. As a result, the level of customer frustration is greatly decreased, which translates into a much more positive shopping experience, and repeat business for the organization.
---
Mediaforce has implemented and trained a number of AI chatbots for clinics, tour scheduling and to handle FAQ's. If you have any questions about how an AI chatbot may be able to help streamline your business flow please contact us to schedule a discovery meeting.