Table of Contents
A company website is a fantastic tool. But results require time and work! Your website must be optimized for success to help you develop your company.
This collection of easy-to-implement website ideas has helped our own and our customers' websites get more traffic and conversions. Let's begin.
Get Your Site Indexed Quickly
Google will eventually index your webpage. Consider the Internet's 1.7 billion+ web pages. Google's in addition to monitoring those sites for updates and fresh information.
Connecting your website to Google Search Console and using the URL inspection tool may help speed up the indexing process.
You may add your website by selecting 'URL inspection' from the left menu. 'Request indexing' if 'URL not on Google'. That's it.
Focus on the User Experience
It doesn't matter if you have fantastic content and optimize it well if your website is a pit of dread.
Your website must be simple to use to help build your company. We commonly find websites with excessive content, menus (or menus with too many choices), heavy pictures, and imprecise navigation.
Consider what your visitor needs to accomplish when they arrive at your website and give the quickest, clearest route. The simpler your website is to use, the higher the conversion rate. That's fantastic.
User experience includes mobile usability, page performance, and on-site user behaviour. That's why anybody who works on your company's website should understand the value of user experience design.
Increase Website Traffic
It means more potential leads or sales. So driving traffic to your website is one of the finest strategies to build your company online. But having a website doesn't ensure people know about it or will find it.
Here are the best sources to get website traffic and how to boost it.
Organic Search
Due to the intricacy of search engine algorithms, search traffic growth is frequently sluggish and difficult. But it's also one of the highest converting, making it great for any commercial website.
Here are five simple ways to boost your search traffic:
The 200+ ranking factors of Google
Regularly produce high-quality articles on popular themes.
Keep your site safe, up to date, and error-free.
Ensure your site is easy to use on mobile devices.
Examine your rivals' strategies to outrank them.
Social Media
Social media is a terrific technique to increase website traffic and reach new and current clients. As a result, you should have a social media presence that attracts traffic to your website.
Instead of attempting to be on every social media network, research which ones are best for your company.
Social media links in the footer or contact page
Social sharing buttons alongside or inside blog entries and case studies
Share distinct material for each social channel, using a platform-appropriate tone and hashtags, if relevant
Respond to comments and emails, and promote reviews from delighted clients
Share favourable social comments and ratings on your website and social networks
Curate user-generated content (UGC) using tags and mentions to share customer tales that make your material more personable, therefore more likely to cause a website conversion
Email
Email marketing is most demanding for new businesses, but it has the best conversion rate. And email marketing can expand your company on a budget!
Use a website sign-up form to collect contacts simply.
Create unique gated material that may be opened with contact information.
From subject lines to style and images, make sure all email content is aligned with your website and social media.
If you have the time and money for more complicated email software, concentrate on audience segmentation so that contacts get relevant material that they will interact with.
Referrals
Referral traffic is the sort of website visitor that arrives from another website clicking a link.
Backlinks assist your company in expanding by increasing visitor relevance and engagement with your content and by transferring 'SEO juice' from the referring site. That's why link building is so popular.
Make use of company directories and review sites like Yelp and TripAdvisor.
Add your listing (and keep it!) Google My Business, Bing Places for Business, and Apple Maps
The best technique to republish your amazing content on high-traffic content networks like LinkedIn and Medium is explained in this Search Engine Journal article.
Produce relevant pieces for large content publishing sites like Entrepreneur, Inc., Forbes, and Huffington Post.
Ad Campaigns
Advertising is more effective and less expensive than before with so many options.
Targeted advertisements are a clever method to develop your company when your domain is fresh, and you're at the bottom of search results.
Whether it's Google Ads, LinkedIn, Facebook or Instagram, do your homework.
Examine ad performance and make changes.
You don't want to be paying for all of your visitors forever, so build up your search traffic.
Increase Website Conversions
Conversions increase revenue. But many websites aren't meant to convert. And not everyone knows HOW to boost conversions! It may seem clear.
A conversion is defined as reading material, completing actions or submitting contact information through a form.
Set up conversion tracking using Google Tag Manager and Google Analytics objectives and events.
Install a heatmap tool like Hotjar on important sites to find conversion obstacles and strong conversion content.
Without a heatmap tool, look for conversion killers like unclear navigation, ambiguous CTA buttons, bad CTA positioning, gated content, unclear newsletter signups, or too many unclear form fields.
Unify Your Marketing Channels
Having a company website has several benefits. Your company is open 24/7. They may learn about your company, investigate your items, and purchase from their chosen device and location.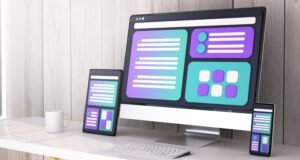 A company website also unifies your marketing platforms. Your website is the final destination for all of your efforts – whether they're all focused on one thing or a mix.
Create and host useful material for your audience on your website.
Set up UTM tagging to monitor non-Google Analytics campaigns.
If you utilize a normal page on your site, make sure it includes brief language and a clear CTA.