Discover How PPC Services In Toronto Can

Help You Increase Your ROI
We are offer data-driven PPC management services across multiple platforms.
BOOK YOUR FREE 30-MINUTE STRATEGY SESSION
Pay Per Click, commonly known as PPC or Google ads, is a paid advertising platform in which you bid on keywords for placement and pay per each click.. It is an excellent method for attracting people to your website. Businesses may purchase listings in Google and Bing search results. These listings, together with non-paid organic results, appear at the top of the search results.
Advertising companies such as Google AdWords and Bing Advertisements sell these ads via auctions. It's also a popular advertising technique on other sites, including Facebook, LinkedIn, and Apple Ads. You decide how much you wish to spend for a click on your ad. Bid the most, and you'll have a better chance of ranking high in search results.
The Goal Of

PPC Advertising
Most companies cannot rely exclusively on PPC advertising in Toronto since the bids are too costly. However, certain significant advantages may only be realized via a successful PPC campaign.
If you have a short-term promotion for a new product or service, pay per click is a tried and true method of increasing buzz. You may launch a PPC campaign in as little as 24-48 hours, and you can modify your wording in the campaign on the fly.
If you sell a product or provide a service, PPC is an excellent strategy. PPC advertising provides immediate traction for a company. Online shops are a perfect way to illustrate this concept.
PPC in Toronto may also offer good deals if you produce traffic to a highly tailored key-phrase or in a particular geographical area. For example, you may not want to spend a lot for the key term salon services, but "salon services in Toronto" is more targeted and less costly.
How To Improve Your Google Ads

PPC Marketing In The Toronto Market
When done correctly, Pay Per Click advertising, often known as just PPC, is a highly efficient way of putting your ad message in front of your target demographic quickly.
Use Ad Extensions.
Add negative keywords.
Use Dynamic Keywords Insertion In Ad Text & Keywords in Display URL.
Know Your Audience and Get Creative With Your Ad Copy.
Bid Higher.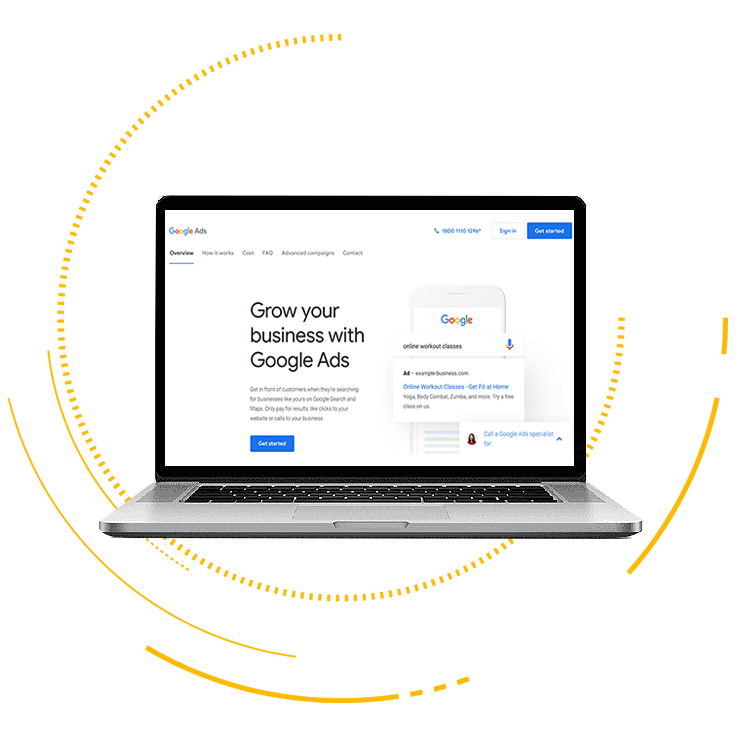 Our Services for Businesses in Toronto
Our Digital marketing agency located in Toronto offers a wide range of services designed to help businesses increase their online visibility, drive traffic to their websites, and ultimately increase sales and revenue. 
Why PPC Is Important To Your

Digital Marketing Campaign
Instant results: Because of the nature of PPC advertising, you can launch campaigns fast.
Small initial investment: You only pay when someone clicks on your ad.
Establish your budget: You may set your budget for PPC advertising based on your own sales objectives and how quickly you want results.
Mediaforce Digital Marketing, a Toronto PPC company helps companies with their online success. To ensure that every dollar of your budget is used effectively, we provide top-notch campaign setup and continual optimization.
Data-driven PPC advertising is a specialty of Mediaforce Digital Marketing. Employ Mediaforce Digital Marketing to leverage over 25 years of PPC and digital marketing experience with a more individualized touch.
LET'S BOOK A SHORT CASUAL CONVERSATION TO SEE IF WE'RE A GOOD FIT.
We can create a strategic plan to get you where you want to be.
We take privacy seriously
At Mediaforce, we respect your privacy and value our relationship with you. Your personal information will be protected, will never be sold.
What Services Does a

PPC Marketing Agency in Toronto

Provide?
As a business owner in Toronto, you may have heard about PPC marketing agencies and their services, but you might not know exactly what they offer. A PPC marketing agency specializes in pay-per-click advertising, which is a digital marketing strategy that involves placing ads on search engines and other platforms and paying only when someone clicks on your ad.
Here are some of the services that a PPC marketing agency in Toronto can provide:
1. Keyword research: A PPC marketing agency can conduct research to determine which keywords are most relevant to your business and which ones have the potential to generate the most clicks and conversions.
2. Ad creation: Once the keywords have been identified, the agency can create ads that are tailored to your business and optimized to attract clicks and conversions.
3. Campaign management: A PPC marketing agency can manage your ad campaigns, monitoring performance and making adjustments as needed to optimize results.
4. Landing page optimization: Landing pages are the pages that users are directed to after clicking on your ad. A PPC marketing agency can optimize these pages to ensure that they are relevant, engaging, and designed to convert visitors into customers.
5. Reporting and analysis: A PPC marketing agency can provide regular reports on the performance of your ad campaigns, including metrics such as click-through rates, conversion rates, and return on investment. This information can help you make informed decisions about where to allocate your marketing budget.
Overall, a PPC marketing agency in Toronto can provide a range of services to help you reach your target audience, increase your online visibility, and drive conversions. At Mediaforce Digital Marketing, we pride ourselves on offering customized and data-driven PPC services to our clients. Our team of PPC experts works closely with each client to develop a comprehensive strategy that meets their unique business goals and objectives. We use the latest techniques and tools to optimize every aspect of our clients' campaigns, ensuring that they achieve maximum ROI.
If you're looking for a top PPC marketing agency in Toronto, look no further than Mediaforce Digital Marketing. Our team of experts has the skills and experience to help you succeed in the competitive world of PPC advertising. Contact us today to learn more about our services and how we can help your business reach new heights.
What Strategies Does a

PPC Marketing Agency in Toronto

Use to Optimize Campaigns?
Pay-per-click (PPC) advertising is an effective way to drive traffic to your website and generate leads. However, managing PPC campaigns can be a challenging task, especially if you have limited experience or resources. This is why many businesses turn to PPC marketing agencies in Toronto for help. Here are some strategies that a PPC marketing agency in Toronto may use to optimize your campaigns:
1. Keyword research: The first step in any PPC campaign is to identify the most relevant and profitable keywords for your business. A PPC agency will conduct comprehensive keyword research to identify high-volume, low-competition keywords that are likely to drive conversions.
2. Ad copy optimization: The ad copy is the first thing that potential customers will see when they search for your keywords. A PPC agency will optimize your ad copy to ensure that it is compelling, relevant, and persuasive. This includes testing different headlines, descriptions, and calls-to-action to find the most effective combination.
3. Landing page optimization: The landing page is where users will land after clicking on your ad. A PPC agency will optimize your landing pages to ensure that they are relevant, informative, and easy to navigate. This includes optimizing the page speed, layout, and content to provide a seamless user experience.
4. Bid management: Bidding on keywords is a crucial aspect of PPC advertising. A PPC agency will use advanced bidding strategies to ensure that you are getting the most value for your ad spend. This includes using bid modifiers, adjusting bids based on time of day or device, and monitoring the competition to stay ahead of the game.
At Mediaforce Digital Marketing, we go above and beyond to ensure that our clients receive the best possible results from their PPC campaigns. Our team of experts stays up-to-date with the latest trends and best practices in PPC advertising, and we use cutting-edge tools and technologies to optimize our clients' campaigns. We also provide detailed reports and analytics to track the performance of your campaigns and make data-driven decisions. Contact us today to learn how we can help your business achieve maximum ROI with our top-notch PPC marketing services in Toronto.
How Does a PPC Marketing Agency in Toronto Measure the

Success of PPC Campaigns?
As a PPC marketing agency in Toronto, measuring the success of our campaigns is a crucial aspect of our work. It allows us to identify areas of success and areas for improvement, and ultimately helps us to optimize our campaigns for better ROI. Here are some of the key metrics we use to measure campaign success:
1. Click-Through Rate (CTR): This measures the percentage of people who click on your ad after seeing it. A high CTR indicates that your ad is relevant and engaging to your target audience.
2. Conversion Rate: This measures the percentage of people who take the desired action on your website after clicking on your ad. This could be anything from making a purchase to filling out a form. A high conversion rate indicates that your ad is not only getting clicks, but also driving meaningful engagement with your brand.
3. Cost Per Click (CPC): This measures the amount you pay each time someone clicks on your ad. A lower CPC indicates that you are getting more clicks for your budget, which is important for maximizing ROI.
4. Cost Per Conversion (CPC): This measures the amount you pay for each conversion (i.e. each time someone takes the desired action on your website). A lower CPC indicates that you are getting more conversions for your budget, which is the ultimate goal of any PPC campaign.
5. Return on Investment (ROI): This measures the amount of revenue generated by your campaign compared to the amount spent on advertising. A high ROI indicates that your campaigns are generating positive returns and contributing to the growth of your business.
At our PPC marketing agency in Toronto, we understand the importance of analyzing and optimizing these metrics to ensure the success of our clients' campaigns. By regularly monitoring and adjusting our strategies based on these key performance indicators, we are able to deliver results that exceed our clients' expectations and drive their business growth. Trust our team of experts to help you achieve your PPC marketing goals and maximize your ROI. Contact us today to learn more about our services and how we can help your business stand out in the competitive world of digital advertising.
What is the Turnaround Time for a PPC Marketing Campaign

With a Toronto PPC Agency?
The turnaround time for a PPC marketing campaign with a Toronto agency can vary depending on a number of factors. These factors can include the size and complexity of the campaign, the level of customization required, and the availability of resources.
In general, a standard PPC campaign can take anywhere from a few days to several weeks to set up and launch. This timeframe will typically involve a series of steps, including researching and selecting keywords, creating ad copy and landing pages, setting up tracking and analytics, and configuring the campaign settings.
Once the campaign idea is launched, ongoing optimization and management will be required to ensure that it continues to perform effectively. This can involve monitoring performance metrics, adjusting bidding strategies, and testing different ad variations and targeting options.
Overall, the turnaround time for a PPC campaign with a Toronto marketing agency will depend on the specific requirements of the campaign and the resources available to the agency. However, with the right expertise and attention to detail, a skilled team can typically deliver a successful campaign within a reasonable timeframe.
What Our Clients Are
Saying
Don't take our word for it. Read some of our reviews below.
"We are seeing the ROI we need and want! We are very happy with the service and strategy employed by Mediaforce to help our business drive the leads we need to achieve our business goals."

Josette LeBlanc

VP Marketing & Sales NYCO
"They have helped us tremendously launching our new clinic in the market. These guys are just awesome and exceptional in all they do. A great TEAM."

Meenie Grewal

registered Physiotherapist & Clinic Owner
"Mediaforce has been instrumental in increasing visits to our website ten-fold, resulting in tremendous increases in business. I cannot recommend Mediaforce strongly enough!"

Pamela Barron

P. Barron Family Law
"The team at Mediaforce has been fast to return a call, email and help with our e-commerce business issues."

Joe Granitz

CEO, Pet Expertise
"Working with Mediaforce has been a pleasure. They are extremely knowledgeable and have helped us immensely with secure hosting and digital marketing services."

Ali Hochberg

BIOS Bermuda
"We are very pleased with the entire team at Mediaforce and their continued efforts to grow our digital presence. Thanks go out to Mediaforce for a job well done!"

Sloan Markey

GM, Tremblay Renovations
"A fantastic approach to the overall design and content, with a clear understanding of my business needs, right from the beginning."

Michael McNeill

PMP, CP3P-F, CBAP, QMS Auditor President MDE Consulting Ltd.
"We began interviewing over 35 companies Canada wide for the development of a new website. After just one meeting we found the company we were looking for."

Bonnie Craig

Medical Aesthetics Manager, The Facial Surgery and Cosmetic Centre
"One of the top digital marketing and social media companies we have worked with. We highly recommend them."

Brent Thomson

Managing Partner, Peak Sales Recruiting
"Not only did Mediaforce increase our google rankings but got us better qualified leads from all channels. I highly recommend Mediaforce."

Wendy Morrison
"Amazing group of dedicated marketing professionals."

Eric Pinkney, MBA

STRATEGIC M&A CAPITAL GROUP INC.
"Fantastic communication and quick response times - two things we were looking for in a new vendor. Would definitely recommend!"

Rachel McIntyre

MSc, PMP®│Senior Manager, Customer Solutions SQI Diagnostics Inc.
"The entire Media Force Team has been fantastic. Switching over to Media Force a couple of years ago is amongst the best business decisions made. Thanks Again!"

Daniel Akowuah

Mortgage Broker - DLGN Underwriter Amansad Direct Lending Group
Let's book a short conversation to see if we're a good fit.
We can create a strategic plan to get you where you want to be.