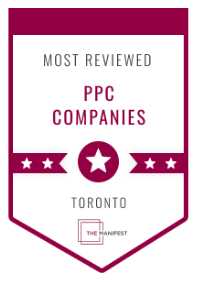 The Manifest Recognizes Mediaforce Digital Marketing Agency as One of the Top-Reviewed PPC Management Companies in Toronto
At Mediaforce Digital Marketing Agency, we provide revenue and growth strategies to small and mid-market organizations. We work closely with our partners to identify the most optimal tactics that will lead to eventual marketing success. We offer a comprehensive range of services that tackles your growth challenges with incredible efficiency.
Today, we're happy to report that we're recognized as a leader on The Manifest. According to the company-listing platform, we're one of the top-reviewed PPC management companies in Toronto.
"We're proud to receive this award from The Manifest. We're driven by our passion for helping our partners grow, and this recognition is a testament to that drive."
— CEO, Mediaforce Digital Marketing Agency
Since 1996, we've been leading the charge toward successful marketing results for fast-growing businesses. To this day, we augment our partners' tactics and ensure that they hit the results they deserve. We couldn't be more proud to win this award and receive such positive reception from our clientele.
Tremblay Renovation is a home improvement agency that hired us for digital marketing and web development solutions. They needed to enhance their website and improve their online presence relative to the markets they serve. We formulated a plan to improve the client's website and digital presence using various tools and social media platforms. SEO was also a key factor in this strategy. We're happy to report that the campaign was an overall success, as proven by the increased levels of conversions on their end.
"What we enjoyed most about the services Mediaforce offers is that we can access all of the solutions we require from one individual company as opposed to managing services from different providers. We felt we were in good hands with Mediaforce as they were covering all the bases!"
— Sloan Markey, General Manager, Tremblay Renovation
Learn more about this notable project through The Manifest, the platform that lists top service providers by industry and location.For inquiries about our solutions, please feel free to schedule a discovery call with our expert.