Ecommerce Marketing Ottawa |
Social Media Marketing Ottawa
What are the types of eCommerce marketing?
Ecommerce marketing is the process of generating top-of-funnel traffic to a website to convert it into sales and customers. And there are hundreds of possible approaches.
From organic traffic and SEO to utilizing Facebook or Google advertising to generate targeted visitors, you may combine paid and non-paid tactics to see which combination converts the most people.
However, no marketing plan is static. As marketing techniques and marketplace algorithms change, so must your approach to get the best return on advertising expenditure and the highest return on non-paid growth initiatives such as SEO.
To successfully develop an eCommerce company – regardless of whether you have a brick-and-mortar location – you need a well-thought-out eCommerce marketing strategy that will boost brand recognition and sales. And there is no evading it.
Creating and an Ecommerce Marketing Plan
To be clear, there is no shortage of material on the subject of "how to create a marketing strategy." Indeed, that subject keeps a large number of writers, instructors, and high-priced public speakers busy. And very rightly so. Numerous tried and true concepts are applicable today, but with e-commerce's continuous development, now is not the time to get complacent.
We've taken the fundamental components of marketing planning, inserted some time-saving techniques, and tapped into our backlog of eCommerce-specific advice to produce this plan that's ideal for growing your online shop.
With the knowledge given, you may confidently develop an eCommerce marketing strategy from the start, either on your own or in collaboration with a more experienced agency partner. Before you begin, here are some time-saving ideas and recommendations.
1. Seek out mentors and advice.
Locate businesses or people that have successfully developed and grown an online company, preferably in the same sector. Then, seek their guidance.
How did they begin?

Which marketing channels generated the highest return on investment in the near term?

Did they work with an agency? Which agency, if any?

How did they track data?

Which SaaS solutions proved to be the most beneficial and effective?
2. When possible, hire experts.
Simply said, the range of knowledge and expertise that a skilled marketer can offer to your company is immeasurable. Consider employing a freelancer to assist with more sophisticated aspects of your company, such as branding, paid to advertise, or website upkeep, if you're a startup. Consider selecting an established agency if your company is established. They'll add new vitality, a new viewpoint, and complementary talents to your in-house capabilities.
3. Be honest with yourself.
Without high-quality goods, enough financing, and competent staff, there is no road to success. Naturally, exceptions to the norm exist. There is no stigma associated with beginning small and doing your digital marketing on your own in the near run. However, it is critical to establish reasonable goals and develop a development strategy.
How to Build an Ecommerce Marketing Plan
While laying the foundation for your eCommerce future, completing these activities while writing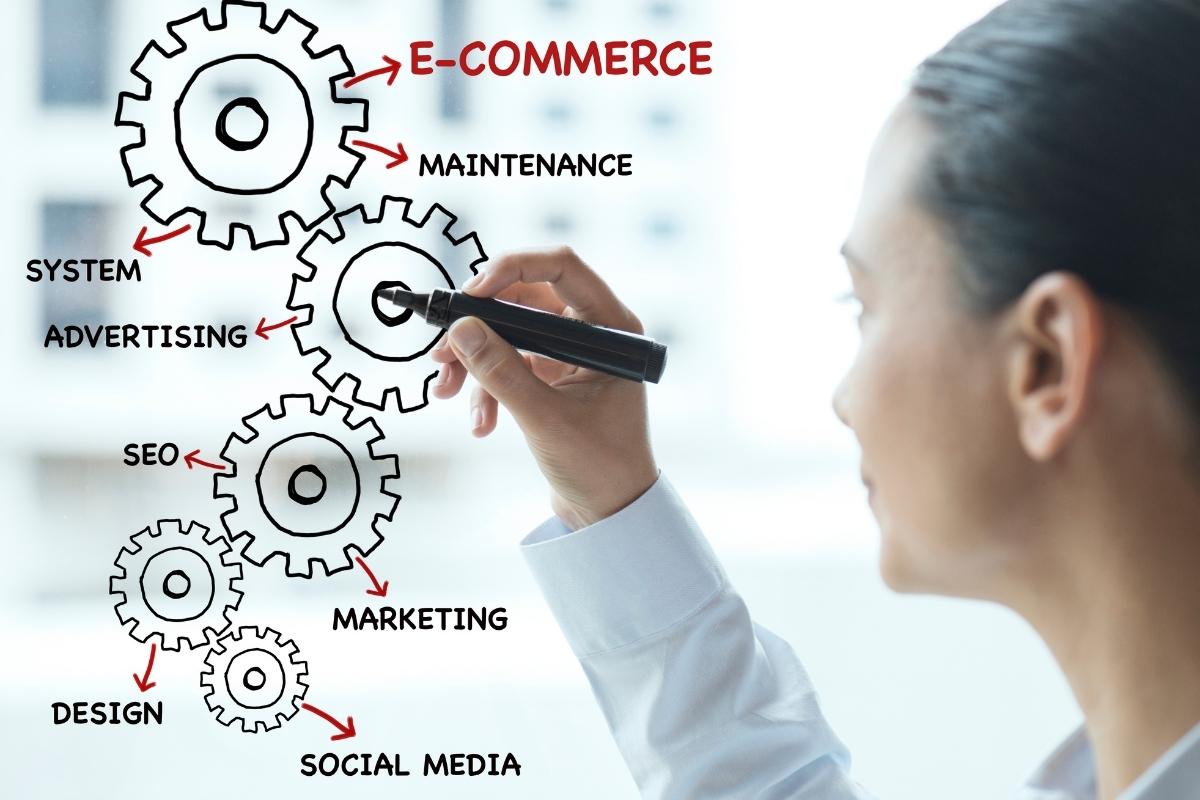 your business plan is critical to guarantee that your techniques and approach are well-considered and will stand the test of time.
This cannot be emphasized enough: these are the conditions for developing an efficient marketing strategy and establishing a profitable company.
1. Executive summary.
After gathering meaningful guidance from experienced mentors, the larger picture will become clear. By composing an Executive Summary, you'll begin the process of developing your eCommerce marketing strategy.
2. Goals & objectives.
Make your goals and objectives EXTREMELY precise and achievable. Once you start executing, there is no guilt in adjusting your objectives if they prove to be too low or too high.
3. Mission statement & value proposition.
What's the purpose of this company?

What do you do?

What don't you do?

You (or the leadership of your business) must be able to respond to these fundamental questions.
Not all businesses need a philanthropic component (though it is desirable), but they must have a defined purpose and value offer.
4. Target customers, personas & markets
Recognize your audience. Without a firm grasp of who you are targeting, what qualities identify them, and where they are situated, you're certain to conduct wasteful campaigns that spend money on low-converting, unqualified people.
Ascertain that you are familiar with the following:
Age ranges.

Gender breakdown.

Geographic location.

Purchasing power.
5. Situation analysis.
As a result, do an in-depth analysis of the company's present condition, the competitors, and the overall marketing strategy. Leave no stone unturned. Greater knowledge of your present position will result in more informed decision-making and, ultimately, more successful outcomes.
6. Pricing & positioning strategy.
Ascertain that the price and placement of your product or service offer genuine value to your target customer. As a result, do research! Of course, testing and refining opportunities exist throughout the lifetime of your product, but by investing a bit extra time upfront, you'll be better off in the long run.
7. Distribution & fulfillment plan.
Even if you are just getting started, you should grasp the distribution and order fulfillment needs that will emerge as your business expands. Whether you are packaging and shipping yourself, managing a small staff, or using a third-party fulfillment shop, you need to know whether your fulfillment procedures are capable of meeting the demand generated by your forthcoming marketing campaign after you've created your ideas, set aside some time to modify, refine, and evolve them over time.
For more information on eCommerce Marketing Ottawa, call 613-729-0500 or request a free initial consultation today.